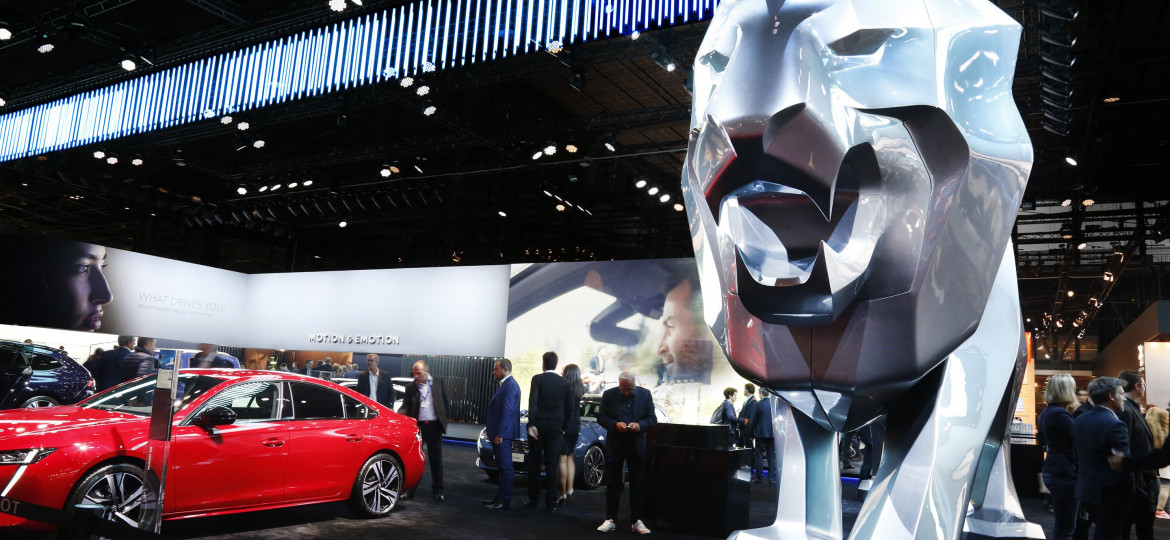 Over an area of more than 2,000 m2, Lonsdale is designing the new Peugeot stand at the Paris Motor Show, which has a new, streamlined design for the occasion.
With facades and a simple, straight frame that makes room for the Lifestyle visuals and a giant screen, 10m wide by 6m high, the visitor will be able to appreciate the special attention paid to materials, finishes, furniture, dressings and lights intended to showcase the 24 vehicles of the brand.
In the center, the brand new ambassador the "Peugeot Lion" is dramatized by Lonsdale and holds a central position. This monumental work, 12.5 meters long and 4.8 meters high, embodies the pride of the brand. Visible from afar, the Lion alone embodies the High Standards, the Allure and the Emotion, and allows for immediate brand recognition.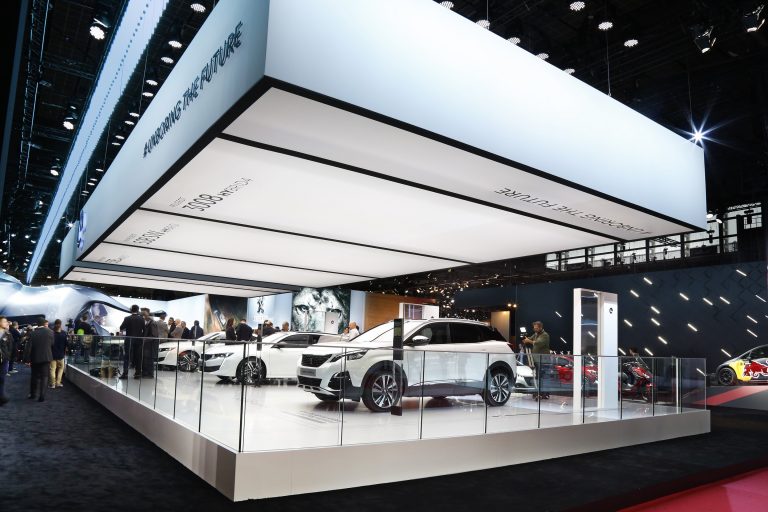 Visitors will discover dedicated spaces emphasizing the competitive advantages of the brand as well as a VIP lounge in an area of 1,320 m2: Peugeot Sport, new petrol hybrid engines, Peugeot Design Lab, boutique lifestyle and Peugeot solutions for global mobility.
The alternation of dark and light surfaces, the walls enhanced by large luminous visuals, and the choice of a designer furniture create a contemporary, attractive and convivial space. The ceiling, shaped with blue LED tubes and a backlit poster, allows the brand to be easily identified within Pavilion 1.
With the goal of continuing to move upmarket and of uncompromising quality, Lonsdale has written a sober and spectacular stand that focuses on the technological distinction and energy transition of the brand. A space dedicated to electric vehicles is adorned with a bright white light and holds a central place on the stand, alongside the latest concept-car of the brand.
A canopy marked with a new graphic symbol "E" also designed by the agency create the identity of this space. This new symbol, which is seen on all of the visual supports, signifies the energy transition initiated by the brand.