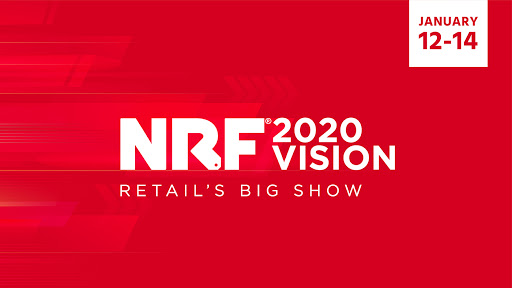 I can shop clearly now: entering a new decade of retail!
The National Retail Federation (NRF) is the world's largest retail trade association, and every January the world's retailers convene for 'retail's big show', to look at trends, hear from experts and celebrities, and showcase the latest trends. This year's '2020 Vision' filled NYC's Javitz Convention Center's 840,000 square feet with 40,000 attendees from 99 countries, wandering the floors to see a vision of the future.
From Nike, Allbirds and Peleton to Starbucks, Mastercard and show closer Gwyneth Paltrow, brands and brand ambassadors vied for attention, looking to set the course for a new decade. Our sister agency CBX spent a couple days walking the halls, talking to exhibitors, listening to chatter in all languages, and trying to make sense of it all.
Here, in a few words, are their top 10 take-aways to start the new decade with a clearer vision of what's ahead for retailers:
#1 – Names matter. Intelleon, Resultiks, Logile, Stratacache. Navigating the myriad start-ups, technology platforms, analytics providers and data vacuums, language becomes oppressive, redundant, and jargon-rich. Limited letters and an ownable URL drive tough choices. It's worth doing right.
#2 – Greta Thunberg is right. The changing climate isn't something you believe in; you either know it or you don't. And young consumers know. China is banning single-use plastic, Microsoft has just pledged a billion dollars, start-ups like Loop and Yerdle are moving the conversation from e-commerce to re-commerce. Your future customers will see environmental responsibility as table stakes for consideration.
#3 – Cord cutting will cost you a fortune. There was a time when a brand could buy a spot on national TV and guarantee an audience. Netflix, Hulu, Disney +, Roku, YouTube TV have changed the game. A fragmented media market means multiple channels and platforms. "Omni-channel" marketing isn't just a thing, it's a whack-a-mole strategic challenge.
#4 – KOLs kill. No one trusts governments, brands practice subterfuge, truth is fungible, and the endless stream of information into our pocket computers has wired our minds to soak up broad streams of data rather than develop deep pools of knowledge. "Key Opinion Leaders" have direct access to millions through platforms like Twitter and Instagram, which is why brands clamor over themselves to secure sponsorships from celebrities who command extravagant financial premiums, hordes of followers, and the US Armed Forces.
#5 – The United States remains a digital laggard. Despite the advances of Silicon Valley, the strength of the economy, and FAGMA (Facebook, Apple, Google, Microsoft, Amazon), technological adaptation in the retail sector is pushing forward faster in other countries. A company like Allbirds does 95% of its revenue via mobile phones in China (compared to 50% in the US), and less established retail norms are enabling companies to leapfrog more traditional retail channels while also moving farther faster on privacy laws (with some notable exceptions).
#6 – DTC is DFC. The Chinese e-commerce behemoth Alibaba created 11.11 11 years ago as a shopping day, and this year they sold more than $38 BILLION worth of goods on that day alone. The 'direct to consumer' model enables start-up brands to save in so many ways – no brick and mortar investment, you can manufacture to match demand and avoid onerous warehousing costs or tying up capital in inventory. But you also get immediate feedback FROM consumers, and agile brands can innovate and modify in quasi real-time.
#7 – CES is NRF. A week before NRF I went to the Consumer Electronics Show in Las Vegas to see the future (and present). Back in NYC at NRF, the big exhibitors were familiar: Microsoft, Infosys, Adobe, Fujitsu…As data and technology drive retail innovation, the two shows will overlap more and more.
#8 – Introducing E-commerce! I know, that's all you hear about, and Jeff Bezos is the world's richest human. But brick and mortar's death is vastly overstated, young people are clamoring for real-life experiences (ok, VR experiences in a real-life store, but still..) US e-commerce ten years ago totaled $170 billion; last year alone Amazon did $250 billion in sales. It's still early days for internet shopping.
#9 – Everything's a lifestyle brand. Remember when you bought a pair of shoes because they were comfortable and looked good? Now shoe brands are offering in-store Formula 1 VR experiences, mood lighting and NBA 2K Nintendo. Hang out with the cool kids and get what they get—some things never change.
#10 – Steak in the ground. Long ago I worked at Jose Andres' first Jaleo restaurant in Washington DC. A colleague would invariably return from a table who'd asked what he thought was a stupid question and say "If it looks like cheese, and smells like cheese, it must be cheese!" and shake his head disparagingly. Those days are gone, and the plant-based revolution is upon us. And it's not just cow's meat and milk. Pork, chicken, duck, salmon – there's big money pouring in and culinary adventures await.